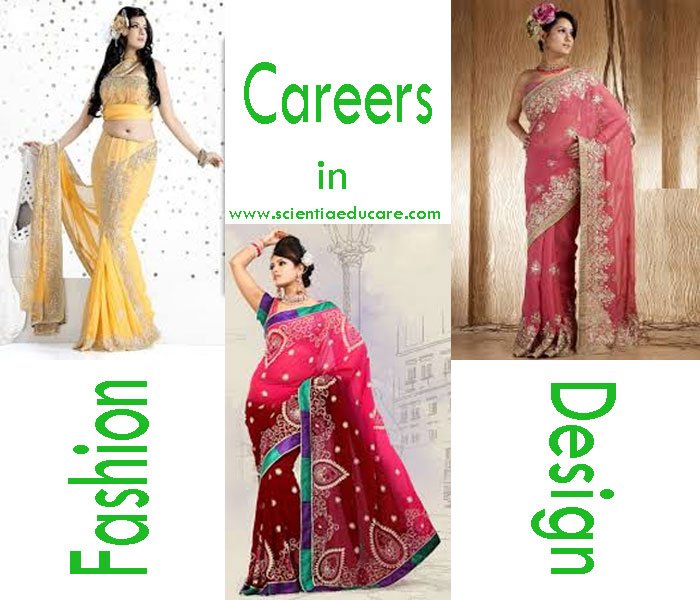 Careers in the Fashion and Design
Janmay Singh Hada and Manoj Tiwari
National Institute of Fashion Technology, Jodhpur
Article Source: Employment News
"Fashion" is keyword of our time. Our society is changing rapidly due to globalisation,internet and fast communication. Indian fashion and design sector plays an important role in the Indian economy and impact significantly at national and international level. Fashion has infiltrate into almost every corner of life. It transgress varied micro and macro aspects including changing methods, newer technologies, regional configurations, personal and social networks. India's vast potential, especially in the new area of design, technology and
management in fashion sector is still untapped. Rising affluence has increased brand awareness among Indian consumer. Fashion field is dynamic, fast changing and full of creativity in nature. It offers limitless career opportunities and provides a platform for a promising future.
Fashion is one of the few fields of work which offers "Name, Fame and Money" with personal satisfaction. Fashion graduates from various institutes have various options like working as designers (Fashionpreneurs and Design preneurs), garment technologists, fashion managers, supply chain managers, product developers,merchandisers, fashion consultants, fashion photographers, fashion journalists, fashion forecaster and working in export houses at key positions.
The vision of the National Design Policy,2011 envisages the importance and strategic plans to promote design interventions in India. It highlights the need of developing a platform for creative design development, design promotion and partnership across many sectors ,states and regions for integrating design with tradition and technological resources.
India is among the leading exporter of raw materials, fabrics, garments and other fashion products. At the same time India has a huge young population (with more than 81% of the population below 45 years , and median age of 26 year). India is expected to become the world's youngest emerging economy by 2020, with around 64% of its population in the working age group.
India is one of the largest market for fashion products. This indicates the opportunities in fashion field at domestic level. In the difficult times when India has been suffering with higher double digit inflation rate and a comparatively low growth rate(approx. 5% per year), the Indian fashion sector is growing with good pace and expected to maintain the growth at 10-12% per year in coming years. India's textile and clothing exports
registered a robust growth. The value of Indian retail is growing at steady rate of 6% per year and touching USD 500 and expected to reach USD 865 by 2023. According to the "Nielson global luxury brand study" India is among the most brand conscious courtiers in the world with 35% Indian survey respondents reporting to buy designer brands . Indian luxury retail is growing at whopping compounded annual growth rate of 25%. India is expected to
be the next future market for luxury retailing. This also reconfirms the huge untapped career potential for fashion professionals.With the changing time and global business dynamics, there are many emerging focus areas with new career opportunities.
The major such areas are IT empowered fashion business practices, global sourcing and buying, business process outsourcing, knowledge management, fashion journalism, fashion communication, and intellectual property rights.
These practices are rewriting the function of fashion business and further widened the
fashion career spectrum for young brains.
Personal attributes
Since these programmes are multi-disciplinary and holistic in nature, it need an in-depth knowledge on the particular fields. One must have a thorough knowledge of the respective field to judge the skill, power of observation, innovation and design ability of the candidate. One should also have an interest in issues related to basic design skills and processes leading to conceptual skills and ideation for creative mobilization of process and strategies for innovation. Aspirants willing to make a career in fashion sector should be creative, yet
understand the technical and markets aspects of business, problem solving, result oriented,able to set priorities, self-starters and must also have the capability to work in a team or lead a team.
Courses and eligibility
Several institutes, colleges and universities offer Diploma, Under-graduate, Post-graduate ,Post-graduate Diploma and Ph.D. Programmes in Fashion Design, Technology andManagement streams in India and overseas. One can opt for Bachelors of Design (B. Des.),Bachelors of Fashion Technology (B. F. Tech), Bachelors of Science (Textile and Clothing) or Graduate Diploma Programme in Design in Communication after 12th standard. The duration of such programmes is generally 3 to 4 years. One can also pursue Masters of Design (M. Des.), Masters of Fashion Technology (M.F. Tech), and Masters of Fashion Management (MFM) or Post Graduate Diploma (PGD) courses in design fields. The duration of these, programmes are two years and the minimum eligibility criterion in this regard is a
graduate degree in respective fields or any other related subjects. For 2-year M.F. Tech;candidates with B. Tech., B.E. and B. F. Tech. are eligible. Apart from these, various collages in the field of design and technology also offer short-term Post Graduate Diploma programs.
Research oriented programmes such as M. Phil and different universities and institutes offer Ph. D in Fashion Design, Technology, and Management.
Different career segments in Fashion & Design :
These programmes aim to evolve expertise in design methodology, materials and production process, consumer behaviour and market dynamics, trend and forecast interpretations, business practices and project management in the fields of fashion and design sector. Streams in design : Fashion design, textile design, fashion communication/ communication design, animation, exhibition, film and video, graphic design, visual communication,animation, interaction , leather design, accessory design, Industrial design (ceramic & glass,furniture & interior), product design , knitwear design, interaction design, mobility and vehicle design etc.
Courses offered: Graduate diploma in designing, Bachelor of Designing, Post Graduate Diploma Programme in Design, Masters of Design, Ph. D.
Career Prospects: These programmes equip students to pursue a wide range of careers inthe design sector as trend forecasters, product developers, textile designers, colourist,merchandiser, creative designer, technical designer, pattern maker, visual merchandiser etc.The graduate would also be able to make contributions in research and development in government and private agencies.
Such programmes encourage inter-disciplinary and intra disciplinary studies that integrate holistic perspectives in creative pursuing engaging design and technology as applicable to the following thrust area viz. New product design and development , communication design, new media usability Engineering, Interaction Design, Experiential Design, Environmental Design, Human-Computer Interaction Design, Ergonomics, studies in Occupational Hazard and Safety, and Design Management, New Media, Communication Design and Film, etc.
The students are encouraged to undertake projects involving intensive analysis and synthesis in the form of conceptual design, simulation and making functional prototype.
Fashion Technology: This is a multi-disciplinary, technology-oriented field, which prepares students to meet the requirements of newly emerging challenges of the apparel sector. The key focus area of fashion technology is the core apparel manufacturing technology, with emphasis on best practices coupled with understanding and application of Information Technology. Professionals of fashion technology can significantly contribute to the fashion technology domain of the apparel industry.
Courses offered : Bachelor Degree, Master Degree and Ph. D. in Fashion Technology.
Career Prospects: The programme equips students to pursue wide range of careers in apparel production, quality assurance, garment technology, sourcing, product development,sourcing, project analysis, production planning, and system analysis and software application.
Fashion Management: This field is a good career option to the candidates who aim to develop managerial skills in the field of marketing, merchandising and retailing best suited to the requirements of the garment export and fashion retail sectors.
Courses offered: Master programmes and Ph. D.
Career Prospects : The programmes in Fashion Management offer a solid platform for those wishing to pursue careers in international marketing, brand management, retail buying and global sourcing, retailer, buyer, retail store manager, visual merchandiser, exportmerchandising, management consulting, fashion education, retail technology, supply chain,customer relationship management etc. in the sectors of apparel, lifestyle and accessories.
Careers related to fashion include:
Fashion and design sector as a career offers vast job opportunities for its graduates, post graduates and research scholars in different areas. apart from the private sector, a bachelors, masters or doctoral degree holder in fashion sector can get a good position/ job according to their knowledge and experience in the Govt./semi Govt. organizations also.
There is the need for them in various organizations like National handloom development corporation, central cottage industries corporation, handicrafts and handloom export corporation, National textile corporation , Wool sector export promotion council,Handloom export promotion council, Apparel export promotion council, Indian Silk Export
Promotion Council, Woollen Export Promotion Council, Carpet Export Promotion Council,Export Promotion Council for Handicrafts, Power loom Development, Footwear design & development institutes, Apparel training and design centre. The post graduate and doctoral programmes enable the scholars to contribute in research and development and teaching areas.
Click Here for Details
Authors :
Janmay Singh Hada, Assistant Professor and Manoj Tiwari, Associate Professor are associated with National Institute of Fashion Technology (NIFT), Jodhpur.
Best Wishes From www.scientiaeducare.com
Helping you choose a successful career….
Article Source: Employment News