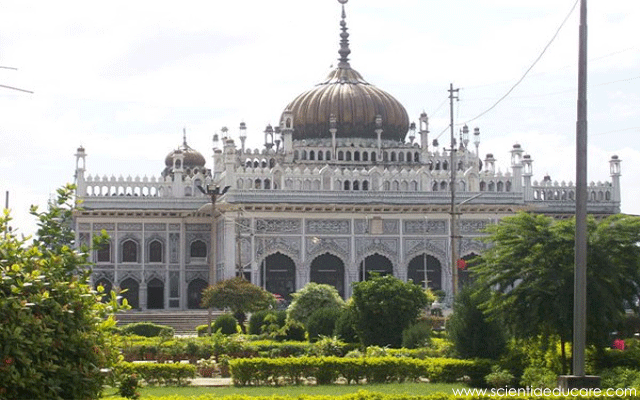 Chota Imambara, Lucknow
Also known as, Hussainabad Imambara, the Chota Imambara was built by the Nawab of Awadh and is located in Lucknow. Located in close proximity to the larger Bara Imambara, the Chota Imambara is also referred to as the Palace of Lights due to its gilded dome and enchanting decorations during Muharram.
Showcasing an interesting blend of Charbagh, Persian, and Indo-Islamic structural designs, the Chhota Imambara is a historical landmark of modern Lucknow. Constructed in the year 1837 by Mohammed Ali Shah, the Chhota Imambara is an awe-inspiring monument with its golden dome, gold-edged mirrors and silver throne.
Also known as Hussainabad Imambara, the Chhota Imambara, which is a painstakingly designed monument, is one of the finest examples of artistic brilliance and structural grandeur of the artisans of that era, which has the miniatures of Taj Mahal on its either side, houses the tombs of Ali Shah and his mother.
The Chhota Imambara, with its glittering brass-domes and ornate architecture was identified as the 'Kremlin of India' by a Russian Prince and has an interesting history behind its construction. It is believed that when the great famine of 19th century swallowed up all the belongings of the poor people, the then Nawab of Oudh commissioned the construction of Chhota Imambara under the Food for Work programme, which gave a much needed respite to the poverty stricken people of that time.
The Chhota Imambara, along with its magnificent dome and numerous minarets, has equally striking interiors, which are ornamented with beautiful Arabic verses that have been skilfully carved by efficient craftsmen, intricate glass work, elaborate chandeliers, mirrors with gold frames and the majestic throne of the king.
Sometimes known as the palace of lights, the Chhota Imambara is at its glittering best on the eve of Muharram, when the entire monument is lit up with numerous ornamental lamps and Belgium chandeliers, which adds to its royal grandeur.