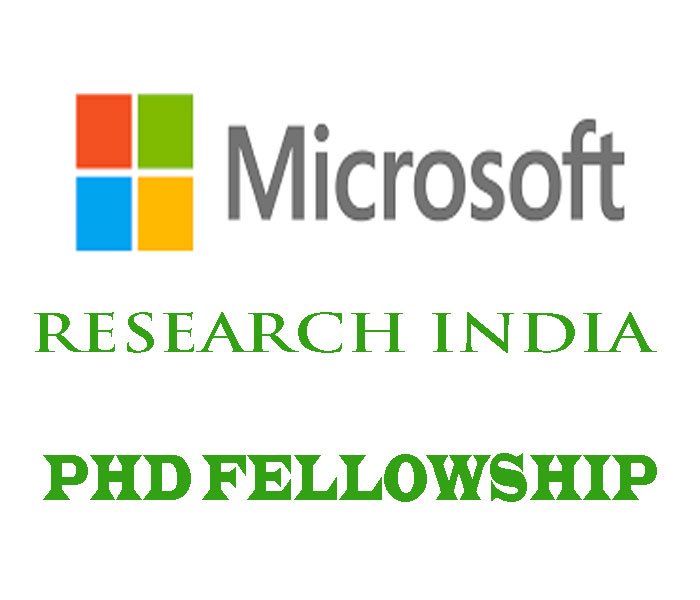 Microsoft Research is committed to advancing the state of computer science. Our fellowship program provides financial support for students and early-career faculty, allowing them to focus on their research. Fellowships build lasting relationships between Microsoft Research and academic institutions. Microsoft Research India PhD Fellowships support PhD students at Indian universities while they pursue doctoral education in computer science and related areas. The fellowships are awarded after a rigorous selection process that includes application, letters of reference, and selection by a panel of leading researchers.
About the Fellowship
For each academic year, Microsoft Research India awards five PhD Fellowships.
The award comprises a monthly stipend that will be disbursed to the awardee over a maximum period of four years. This monthly sum can be used for tuition, books, stipends, and/or any other expenses.
Each PhD Fellow receives a laptop computer and a separate sum of INR 2,50,000 (rupees two lakh fifty thousand only) for travel to conferences and seminars during the term of the Fellowship.
Each Fellow will be invited to various events conducted by Microsoft Research and will have the opportunity to interact with researchers at Microsoft Research India.
ELIGIBILITY
Students must be enrolled in a PhD program at an Indian university.
Students must be in the first, second, or third year of their PhD studies.
Students who are studying computer science, electrical engineering, electrical/electronics, communication engineering, mathematics, and other fields closely related to computer science are eligible to apply.
HOW TO APPLY
The application process is completely online. Sign up to create your application by using the online application system.
Apart from personal details, each applicant must submit the following:
(i) Resume
(ii) Research Statement of Purpose (maximum 500 words)
(iii) Email IDs (email addresses) of three reference writers
Only the required fields on the application form must be filled in when you create your new application. You may log in later to upload the Research Statement of Purpose and provide email IDs of reference writers.
Your application must be completed and submitted before last date of submission. Late applications will not be accepted.
Selection Procedure
The selection process will be done very strictly. Candidate's applications will be examined by a famous panel of researchers at Microsoft Research India. The telephonic interviews can also be held.
For more details and information on selection procedure, please visit official website.
How to Upload Reference Letters (for Reference Writers)
If an applicant has submitted your email address as a reference writer, you will receive an email message from 'MSR India PhD Fellowship Application System' requesting the reference letter. (You may need to check your junk email folder.)
The email message will contain a link to the application system website. When you use the system for the first time, click the 'Reset your password' link to have a password emailed to you.
You will receive an email message from 'CMT Password Assistance' with your password. (You may need to check your junk email folder.)
Once you receive your password, you can log in to the application system by using your email address and the password you received.
Upload your reference letter in .doc, .docx, or .pdf format.
You can return to the system and change or delete any reference letter(s) that you have uploaded.
All reference letters must be completed and uploaded before deadline.
For more details Please! Refer the Website: http://research.microsoft.com/en-us/collaboration/global/india/phdfellowships.aspx
Best Wishes From www.scientiaeducare.com
Helping you choose a successful career….